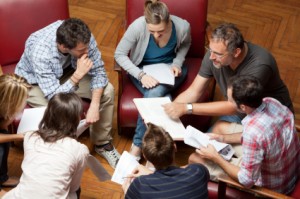 Sometimes we need to process this journey with others.
Our coaching cohorts are small groups of six to eight church planters from across the nation who gather regularly for support, training, and fellowship.  We don't believe in a one size fits all approach to ministry: just because something works in lower Manhattan does not mean it will work in rural Idaho.
Our church planter cohorts specifically focus on four areas:
Philosophy of Ministry Leadership.  Why do you do what you do as a church leader?  What informs the way you approach ministry, and those who are serving with you?  In what ways are you uniquely gifted to lead, and how should you build your team?
Contextual Exegesis.  Understanding your unique context will better equip you to design and lead a church that truly engages your community.  Develop the basic skills needed to learn your context.
Strategy Development.  Create a specific strategy for the church you are planting that is informed by your philosophy of leadership and your context.  We help you develop core values, ministry outcomes, vision, mission, and approaches to the ministry you are called to.
Implementation.  We equip and resource you with the basics to implement the strategy that you have developed.
Interested?  Let's start the conversation:
Contact Form